Warm weather is a perfect excuse to spend quality time outside with your pet. But before you do, make sure to know how to keep them cool when the sun is out. Unlike humans who are covered in sweat glands, dogs only have sweat glands on the pads of their feet and their noses. They release heat by panting, which isn't super efficient so they can quickly become overheated. They need our help to avoid the dangers of too much heat. Keep your pet safe and healthy this summer with these creative solutions for staying cool.

1. Make Your Own Dog-Safe Ice Cream
You know your dog deserves the best. You also know that the best treat to have on a hot summer's day is ice cream. The problem is that puppy ice cream from the local gourmet pet store is way overpriced. This three-ingredient ice cream recipe is safe for your dog to enjoy and easy for you to make! Your dog will lick the bowl clean and beg for more.
Get the recipe from Keep it Simple Sweetie
2. Build an Outdoor Dog Washing/Cooling Station
Playing all day in the sun and exploring nature is fun; the scent your dog brings home with them is not. Keep your dog clean and cool them down with a DIY pet washing station you can build from PVC pipe in no time. Using some basic, found-at-the-hardware store supplies and a hose connection, you can easily construct a DIY dog washing station that will fit your pooch perfectly.
3. Make a Doggie Cooling Mat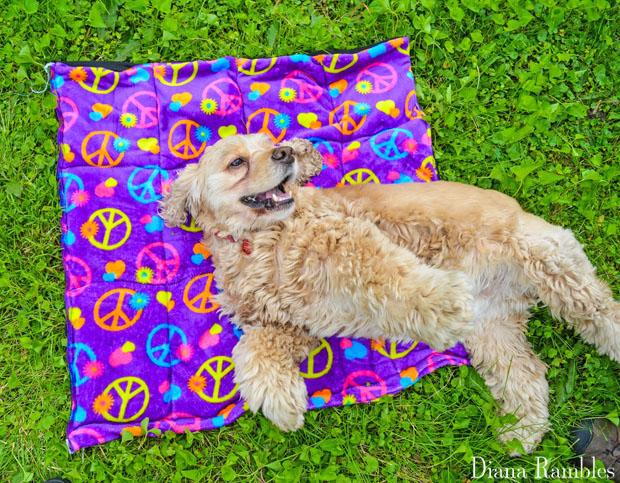 Dogs and cats alike love to stretch out in the warm summer sun, but they can quickly become overheated. Make basking more enjoyable for your pet by creating a DIY cooling mat. We love this version from blogger Diana Rambles. Constructed of a bit of fleece fabric and bargain store ice packs, it's washable and super simple to make. Making your own will require only a few basic sewing skills and about an hour of your time.
4. Make Some Frozen Treats in a Favorite Dog Toy
Kong toys come in all kinds of shapes and sizes because all dogs love them. They are tough, red rubber chew toys meant to be filled with yummy, sticky treats, like peanut butter, that will keep your dog occupied for a while. These pet-friendly recipes are easy to make and are meant to be frozen to keep your dog refreshed while licking out the center. We can't wait to try out coconut and banana or cheesy potato pie for our dogs!
5. Throw Your Pet a Pool Party
Filling an inexpensive plastic kiddie pool with ice and water is the perfect cool down for a dog. Your pup will have so much fun chasing toys and relaxing in their new personal playground. Plus, the kids will want to join in on the fun!

6. Freeze Water Bottles to Cool Caged Pets
A pet bunny can get pretty hot in a cage that sits by the window or in an outdoor hutch. To keep your furry friend cool and hopping happily, freeze a full water bottle and secure the lid on top before placing the bottle in your pet's cage. Your bunny will thank you as they snuggle up next to it when the sun is beating down.
7. Make a Frozen Treat Bowl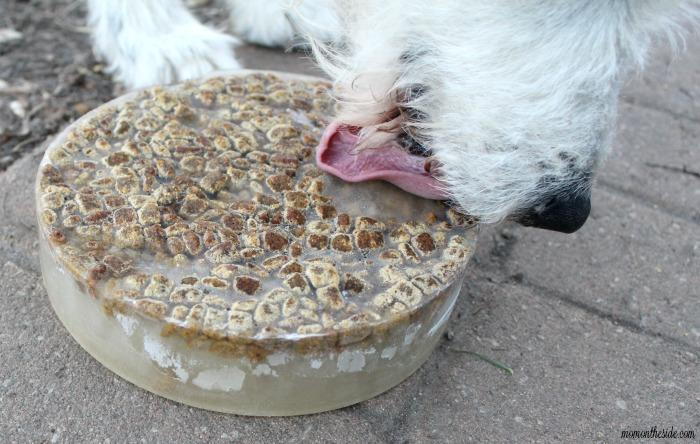 If you want to keep your pets occupied and refreshed, this frozen treat bowl is perfect. Freeze kibble or treats in a water and chicken stock mixture and let them go to town. The chicken flavor will keep them interested until they get to the good stuff. Just be sure to keep this one outside so it's not melting all over your carpet!
8. Create a Shaded Sanctuary
OK, so originally this project was designed for a child, but what pet parent wouldn't want to make one for their fur baby? Big or small, thick or thin, this cute tepee tent is the perfect shady spot for a pet on a sunny day. It's easy to make with just a few hardware store supplies and a length of fabric.
9. Protect Pet Paws with a DIY Wax Treatment
With summer comes the opportunity for pets to do more outdoor exploring in all sorts of terrain: hot sandy beaches, scalding paved streets, and dusty country roads. One of the best ways to keep your pet's paws in top shape is to avoid walking them on paved surfaces during the heat of the day. But for an extra layer of protection against irritating elements, try paw wax. You can purchase this pet-friendly wax in many pet shops, but it's also easy to whip up your own using some all-natural ingredients like beeswax, coconut oil and shea butter. Bonus: This wax also comes in handy during the cold winter months when icy conditions can be too much for puppy paws.
10. Make Your Own Puppy Popsicles
These look good enough for us to eat! Well, minus the rawhide popsicle stick. This yummy mixture of fruit will have your dog's tail wagging as soon as they come out of the freezer. Feel free to add your pup's favorite goodies into the mix for an extra-special treat.
---
Thank you to BHG.com for this wonderful article!